Step Into Action Wellbeing Hub & Cafe - Sunday 01 Oct 2023
Our Normal Opening Times are as follows: Fridays 6-9pm & Saturdays 2-5pm. Offering light refreshments with a listening ear, signposting, arts/craft and wellbeing activities - All over 18's are welcome.
Step into Action Wellbeing Hub & Cafe welcomes everyone who needs support and signposting to services available to them at Soroptimist Clubrooms, 28 Otley St, Skipton BD23 1EW, UK. An open and friendly environment offering light refreshments with listening ears, signposting and support. Activities including board games, book swap, creative, arts and crafting to support wellbeing and mindfulness for all our service users.
We first opened on Saturday 4th June 2022 the Wellbeing Hub & Cafe offers out of hours support on Fridays 6-9pm and Saturdays 2-5pm for more information contact SSIA on 01756 802098 (Mon-Fri between 9am - 1pm) or email [email protected]
All updates regarding our project dates and activities are now available to view on our events page on our website and on Compass. Unexpected closures will be posted on SSIA Facebook Page.
To ensure we can cover instructor costs and resources for our projects, we do ask that participants can offer a contribution on a "pay as you feel" basis.
28a Otley Street
BD23 1EW
Skipton
North Yorkshire
Accessible Accommodation, Accessible Toilet, Companion/Carer Discount, Dementia Friendly, Drop-in, Gender Neutral Toilet, Mobility Impaired Walker, Off-Site Parking, Ramped/Sloped Access and/or Manual Doors, Safe or Quiet Space, Seat(s) Available, Step Free Standard Toilet, The approach and Circulation is level (this may include the use of lifts)., Wheelchair user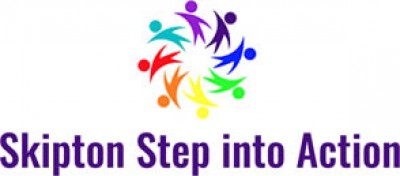 Skipton Step Into Action
Event is repeated on the following dates:
---
Friday 06 Oct 2023 - 6pm to 9pm
Saturday 07 Oct 2023 - 2pm to 5pm
Friday 13 Oct 2023 - 6pm to 9pm
Saturday 14 Oct 2023 - 2pm to 5pm
Friday 20 Oct 2023 - 6pm to 9pm
Saturday 21 Oct 2023 - 2pm to 5pm
Friday 27 Oct 2023 - 6pm to 9pm
Saturday 28 Oct 2023 - 2pm to 5pm
Friday 03 Nov 2023 - 6pm to 9pm
Saturday 04 Nov 2023 - 2pm to 5pm
Friday 10 Nov 2023 - 6pm to 9pm
Saturday 11 Nov 2023 - 2pm to 5pm
Friday 17 Nov 2023 - 6pm to 9pm
Saturday 18 Nov 2023 - 2pm to 5pm
Friday 24 Nov 2023 - 6pm to 9pm
Saturday 25 Nov 2023 - 2pm to 5pm
Friday 01 Dec 2023 - 6pm to 9pm
Saturday 02 Dec 2023 - 2pm to 5pm
Friday 08 Dec 2023 - 6pm to 9pm
Saturday 09 Dec 2023 - 2pm to 5pm
Friday 15 Dec 2023 - 6pm to 9pm
Saturday 16 Dec 2023 - 2pm to 5pm
Friday 22 Dec 2023 - 6pm to 9pm
Saturday 23 Dec 2023 - 2pm to 5pm
Friday 29 Dec 2023 - 6pm to 9pm
Saturday 30 Dec 2023 - 2pm to 5pm