Digital Support Volunteer - Closing date Wednesday 30 Nov 2022
Volunteers will support people in groups in community settings and in people's homes on a one-to-one basis, using digital technology to increase their digital skills and reduce loneliness and isolation by helping them connect to the internet. Volunteers will encourage online study materials, use of basic computer tools such as office suites, connections with family or friends and relevant local and wider afield community networks and services.
Social isolation may occur for various reasons including, but not limited to, living alone, bereavement, caring responsibilities, ill health, limited mobility, being housebound or living in sheltered accommodation, care homes or nursing homes.
Volunteers will get to know the client, see what they may like to do, what they hope to gain and help them to achieve their goals. Topics the volunteers may support people with could include:
• Basics of the internet such as using search engines.
• Email clients.
• Instant messaging
• Social media and social networks.
• Video calling.
• Accessing online music and video.
• Online shopping including supermarkets and other retailers.
• Uploading and downloading digital media.
• Using smart phones.
• Using work-related tools such as office suites.
Volunteers will be reasonably confident in the use of digital technology but do not need to be experts themselves. Training, support and resources will be provided.
Tasks & Responsibilities:
• The volunteer may be accompanied by a staff member to the first session if it is in the client's home.
• Get to know the client, their interests and aspirations for using the technology. This will help to
develop a person-centred approach, so the client gains the most from the sessions.
• Introduce the client to using technology at a level appropriate to their needs.
• Support the client to overcome any barriers to using the technology.
• Attend support and advice sessions with other volunteers.
• Possibly collect and share information for monitoring purposes. Training on data protection will be
provided for volunteers asked to do this.
Skills, Experience and Qualities:
• Good listening and clear communication skills are essential.
• Patience, sensitivity and empathy are essential.
• Be comfortable and confident in the use of digital technology, but not necessarily an expert.
• A willingness and confidence to work without direct supervision, on your own in the community.
Previous experience of working on your own out in the community and with minimal supervision
would be helpful.
• Be reliable, dependable and flexible.
• An understanding of confidentiality.
• A commitment to and understanding of the needs of older people.
• A positive outlook and enthusiasm.
• A willingness to help raise the self-esteem and confidence of clients through developing positive
relationships with them.
To apply for this role please fill in the form attached and send it to Barbara Harrison. To do this you can either print it out and post it to: Age UK North Craven, Cheapside, Settle, BD24 9EW OR Email your completed application across to Barbara on the email address below.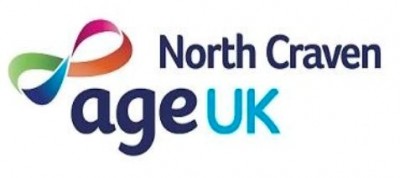 Age UK North Craven