mental health and well being courses - Wednesday 27 May 2020
It's a 4 session course which I have listed below the information for you and I have attached a poster.
What will we cover in the 4 sessions and what to expect.
The sessions are very relaxed and engaging, you won't be asked to do anything that you might not be comfortable with, for example we will not be asking you to share your mental health issues, but obviously if you feel comfortable and they are relevant it would be great to share your personal experiences.
Session 1 - Health & emotions
- What does 'healthy' look like?
- The Difference between Emotional and Physical Health
- The ups and downs in health that everyone experiences
- Assumptions we make about emotional health of other without knowing what's really going on
- How to talk about Emotional Health- for ourselves and others
- Recognising that our feelings are individual and unique
Session 2 - Managing stress & making choices
- We all have control over how we react to a challenge or stress
- Understanding the link between thoughts, feelings and behaviour
- Use problem-solving skills
- How we react and cope is individual to each of us
Session 3 - Building resilience
- There are a range of coping strategies that can be helpful
- Understanding that everyone experiences difficult times and feelings
- Resilience is about working through challenging times.
Session 4 - Knowing where to turn
- Breaking barriers that may stop us receiving support and help
- What support is available
- Make a plan of what might work for you
They can contact myself on v.smith@mesmac.co.uk or via Mob on 07900740269
We also have a twitter page https://twitter.com/MesmacTotal
And Facebook https://www.facebook.com/MesmacTotal
Thanks
Verity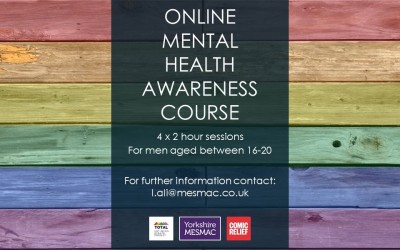 Yorkshire Mesmac